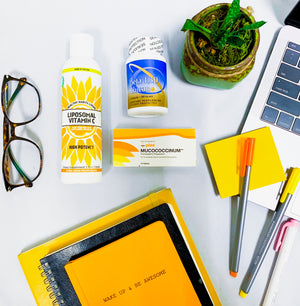 Winter Wellness Kit
Sale price Price $80.00 Regular price
Included in this kit:
Liposomal Vitamin C (5 fluid oz.)
This potent antioxidant contributes to normal collagen formation, bone function, skin, cartilage, blood vessels, teeth, and gum health. Supports our immune and nervous systems and aids metabolism. Unlike most pills and powders, our Liposomal Vitamin C doesn't cause stomach upset and mixes easily with any drink. 
Transfer Point Beta Glucan (30 capsules)
Derived from the cell walls of baker's yeast, Transfer Point's Beta glucan has been scientifically proven to maintain and support a healthy immune response. A strong immune system is vital to the preservation of your good health. Transfer Point's Beta glucan has been subjected to rigorous studies at numerous universities and is the most potent Beta glucan available on the market today. Available in three sizes, to best fit your needs. This 500mg, 3-D Glucan is ideal for individuals who need higher doses for maximum immune support.
Muco Coccinum (10 Tablets)
Established over half a century ago in Belgium, UNDA is renowned for manufacturing exceptional homeopathic products utilized in supporting immune, lymphatic and endocrine systems. In the production of all homeopathic remedies, UNDA uses only pure materials and herbs that are biodynamically grown or wildcrafted. Order Muco Coccinum by Unda today!
For more information on these products, and even MORE tips on maintaining your winter wellness, check out Clean Coach Carly's blog.