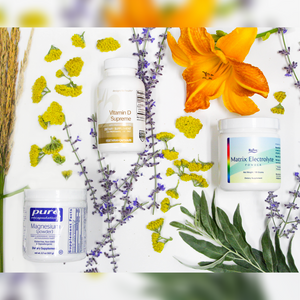 Summer Wellness Kit
Sale price Price $85.00 Regular price
Included in this Kit:
Summertime is for sweating and enjoying the sweetness of fresh fruit and sunshine.  Although sweating is great for health, you lose minerals along with water. 
BioPure Matrix Electrolyte Powder (100g)
Keep your cells and body hydrated with plenty of water and added electrolytes.  Matrix electrolytes are the bio-hacked version of toxic Gatorade. Matrix contains no sugar, flavors, or dyes.  It is virtually tasteless and can be added to water.  If you want some flavoring, try
lemon stevia
 or add to ice tea.  
Designs For Health Vitamin D Supreme (60 Capsules)
Did you know you can still be low in Vitamin D during the summer months? Keep your levels up by taking every day as needed, or reduce to 2 or 3 capsules per week.   
Pure Encapsulations Magnesium Powder (107g)
The magic of magnesium knows no bounds.  If you eat sugar, you are likely magnesium deficient.  It takes a lot of magnesium to restore your depleted reserves.  Small doses taken several times a day is ideal.  Can you ever have too much magnesium?  
For more information on these products, and even MORE tips on maintaining your summer wellness, check out Clean Coach Carly's blog.