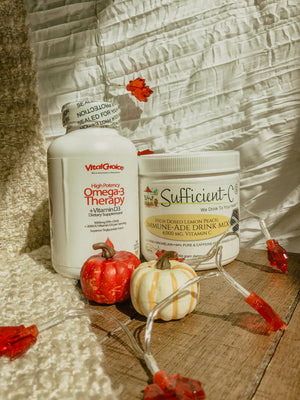 Fall'n for Wellness Supplement Pack
Sale price Price $99.00 Regular price
This fall, boost your immunity, energy and brain clarity! This supplement pack is perfect for the transition from summer into the colder months. 
The Omega-3 Therapy + Vitamin D will help your brain in its natural connection functions. Partnered with Vitamin D, this high potency supplement packs a punch to fight off rain day blues and brain fog. 
Sufficient C drink mix is a high dose of Vitamin C with additional benefits such as green tea extract, L-lysine and Bromelain. It's absolutely delicious and an easy way to fight off cold season and boost your immunity.   
You can read more about both of these products and more ways to care for your health this fall here. If you have any questions about these products or want to know your proper dosage, schedule a product consultation call with me, Carly Neubert, BA NC.  
Included In This Package
One Omega 3 Therapy + Vitamin D (180 Softgels)
One 250 Grams Container of Sufficient C Drink Mix (about 60 scoops)